Meet Weather Element.
Weather Element is a user-friendly plug-and-play solution that allows even the most basic computer users to connect weather stations to their home or business network and view realtime conditions within minutes.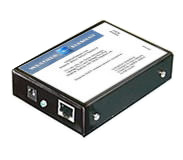 Until now, network-attached weather stations required extensive technical knowledge to setup, configure, and view weather data, but with WeatherElement, your Davis Vantage Pro 2 station will automatically begin uploading data to the WeatherElement server as soon as you plug it into the network and power it up.